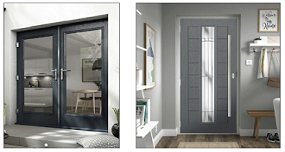 Here at Doorworld we offer a full range of composite doors in a multitude of styles and designs, suitable for both commercial and domestic applications, so whether it's a beautiful new front door to enhance the look of your home or to secure your shop or business premises we have lots of different styles and locking options to suit. Our composite doors come in a choice of colours, glass patterns and styles, bespoke made to suit your size requirements the possibilities are endless!!
Take a look at our composite doors on display at 'The Gallery' at our showroom, with over a dozen doors on display and fully functional working models for you to view, you have the best opportunity to find the perfect style for you.
The Security of our Composite doors:
We know the importance of safety in the home, and recognise the fact that this is one of the most important factors considered when purchasing a new door; this is why our composite doors are all fitted with an excellent security system as standard, and completed with a specially designed dog bolt system securing the composite doors to the frame. This enables you to feel safe from intruders, and also ensures that you know you're investing in a top-rate product of the highest quality; not only are our composite doors aesthetically pleasing but they're also highly durable, strong and stable.
Truedor Door Designer: How To Design Your Composite Doors:
You can tailor the design of your composite doors to meet all of your specifications by clicking here, and then requesting a quote from us based on this design. Alternatively you can contact us here if you have any questions or need help designing your composite doors - our staff are always more than happy to help.